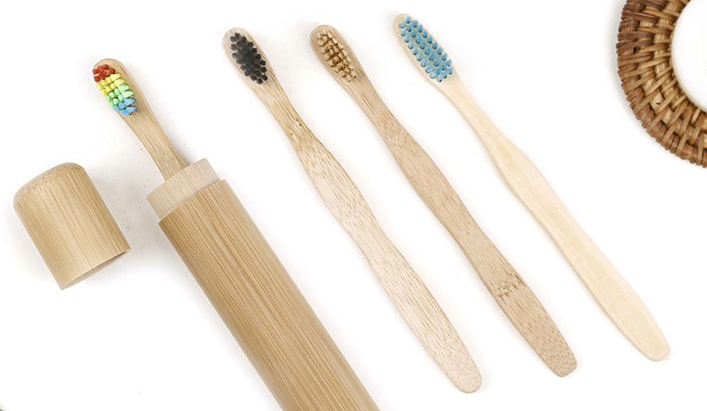 An Eco Friendly Toothbrush - Bamboo Toothbrush
If you are searching for an eco-friendly toothbrush that can help to improve your teeth and solve gum problems, then you can go for the Bamboo toothbrush. It is the world's first toothbrush, which is made up of bamboo. All the materials used to make a bamboo toothbrush is natural and plant-based.
Bamboo toothbrushes are designed with bristles and a medium-long handle. It helps to remove all the dirty particles from your teeth and make your teeth clean and germ-free. The bristle is naturally made up of nylon. Bamboo toothbrushes were first discovered in China. They made this by using a bamboo tree.
How Long Do You Have To Use A Bamboo Toothbrush?
Like a plastic toothbrush, you have to use a bamboo toothbrush. You can use this regularly for three months to get better results or when your brush will be frayed. American dental researcher recommends that you have to replace your toothbrush after three months.
Benefits Of Bamboo Toothbrush:
• Bamboo is a natural product that helps to reduce environmental pollution. And by using a bamboo toothbrush, you can also protect nature from harmful plastic, and you can live a green life.
• Bamboo has an antibacterial property for which your teeth will be germ-free, and it can kill all the bacteria. And provide you with a long-lasting service.
• Bamboo toothbrush is an eco-friendly product. And all products which are being used to make a bamboo toothbrush are biodegradable.
• A bamboo toothbrush is always a better option than a plastic toothbrush. You get more benefit from using this.
• The dentist always recommends this product because it is environmentally friendly and also does a great job for your teeth.
Why You Choose A Bamboo Toothbrush For Your Own?
In the world, there are 7 billion people using a plastic toothbrush as it is more sustainable than a bamboo toothbrush. The bamboo toothbrush is quite high in price than the others. But it has many benefits to use. By using it, you can feel the change of your teeth because bamboo is an organic product that is grown organically without using any pesticides. It is panda friendly. It has antimicrobial properties. It looks unique and also stylish. And you can customize your bamboo toothbrush. And you also check https://www.youthbamboo.com/ this website to know better about the bamboo toothbrush.